Contact us
Oak Ridge Golf Course in Milton, Wisconsin
Location
1238 Bowers Lake Road
Milton, WI 53563
Hours are seasonal.
(Typically Dawn Until Dusk)
Frequently Asked Questions
Why do your hours change?
We love golf as much as you do. We want to give people the opportunity to come out and play. If you can't get here until after work, and the sun is not setting until much later in the summer days, we're happy to see you out under the orange and red sky hitting a great drive and watching your golf ball soar. But when the sun goes down, we can't have you fumbling around in the dark looking for that bad slice on hole 8 over at Bonny Meade. 
Are you really golf professionals?
Yes. Owners Kirk and Andrea are both well establish golf professionals with notable collegic wins, and post collegic careers as successful golf coaches. If you are looking to improve your golf game, there's no better place in Wisconsin than under the tutalege of the Wielands, as they have brought so many Wisconsinites to high victories over the years.
Do you have golf carts for rent?
Yes, we have golf carts for rent at very affordable prices. We also have pull carts for those days you're feeling the need for more exercise but not a whole lot of heavy lifting. We even have golf club rentals for days you want to bring a friend or family member to practice driving, chipping, and putting.
Who's the better golfer, Kirk or Andrea?
The real question is, who can help you become a better golfer? The answer is Kirk and Andrea. Don't believe it? The guy who designed this website and wrote this FAQ code – who knows nothing about golf – has a daughter who, at age 7, started junior golf camp with a broken arm and finished the season with a 1st place Junior Golf medal. Her coaches – the ever lovable, encouragable, incredible Wielands.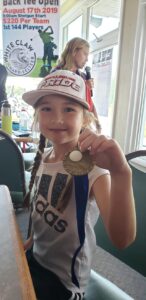 And if that is not enough – just take a look at all of the other amazing winners they have tutored and coached over the years.
Directions to Oak Ridge and Bonny Meade
1238 Bowers Lake Road Milton, WI 53563
Oak Ridge Golf Course and Bonny Meade Links are located on Bowers Lake Road, off Business Highway 26 (Janesville St.), on the North side of Milton, Wisconsin. Bonny Meade is located right across the street from our Oak Ridge Golf Course!
From I-90 in Janesville:
Take exit 171A, and go North on Hwy 26. Exit at WI-59 W/E County Trunk M in Milton (exit 8) and take roundabout to Milton. Turn right at the stop light onto WI-59 W / Business 26 and go approximately 1.3 miles and turn right onto Bowers Lake Road.
From I-94 in Johnson Creek:
Take exit 267 and go South on Hwy 26 approximately 25 miles. Take the exit for Whitewater/Edgerton (exit 11) toward E County Rd N and turn right onto E County Rd N. Turn left onto N Milton Rd. (Business Hwy 26) and go approximately 2.5 miles and turn left onto Bowers Lake Road before entering the city of Milton.
We're always happy to help old friends and make new ones. If you have a golf or service question which you can not find an answer to on our website, we're sorry. Please let us know what it is you are looking for, and we'll do our best to help you out.